denkmal celebrates ...: 30 years of the German Society for Protection of Cultural Property
The German Society for Protection of Cultural Property (DGKS) is a non-profit association that has been dedicated to the protection of cultural property in crisis and emergency situations since 1993. The association believes that the protection of cultural property, minorities and the environment are not tasks for the state alone, but also require voluntary commitment. At the end of August, the anniversary conference of the association took place in Grimma under the motto "From retrospect to the future" - and the denkmal team was also there! Today, the chairwoman of the association, Irene Pamer-Gatzsche, reports in an interview on 30 years of dedicated association work and explains why the protection of cultural assets absolutely requires voluntary commitment.
Editor: Could you explain the goals of the association in more detail?
Irene Pamer-Gatzsche: Our main goal is to promote awareness of cultural asset protection through a strong network! Cultural property is endangered not only by wars and crises, but also by natural disasters caused by climate change - or by neglect and indifference. We are trying to oppose this. But this also includes getting all non-specialists excited about the topic of cultural asset protection and consolidating awareness of the role of cultural assets as identity-forming and culture-shaping.
Editor: Why does the protection of cultural assets need voluntary commitment?
Irene Pamer-Gatzsche: Culture, and thus also the protection of cultural assets, is a state matter. This means that the protection of cultural assets is handled differently in the individual federal states and the focus on it varies. It is therefore important that we as a society become active where political deficits are visible, so that we can then position our demands for better protection of cultural assets. If politicians are more aware of their responsibility, funds are more likely to be made available for the purchase of equipment for the initial treatment of damaged cultural property, training courses or even personnel. It always helps if it becomes clear that costs will be saved in the long term - for example, by investing in the appropriate precautions.
Editor: How can people become active and contribute?
Irene Pamer-Gatzsche: For example, by either joining or supporting a cultural asset protection association. People who are concerned with the topic and want to contribute are welcome in most associations. This also includes local heritage associations. The practical work on the object should be left to professionals. But all around there is a wide spectrum to deal with. Examples include cultural property protection in crisis and emergency situations, military cultural property protection, and political work. Networking is a big part of our work, we are always looking for support here.
Editor: What milestones has the association achieved in the last 30 years of its activity?
Irene Pamer-Gatzsche: A significant milestone was the co-founding of the German National Committee of Blue Shield International in 2017, which was preceded by several grueling years of negotiations and initiatives. In the meantime, Blue Shield Germany's work in cultural property protection networks in Germany is firmly established and successful. As a constituent member, we are always involved. Another big step was the development of our network in social media. In this way, we are constantly expanding our reach and aim to inspire and sensitize even more people to the issue of cultural asset protection. In addition, this year we were awarded the prestigious "Riegel - KulturBewahren" prize, which is presented annually by the trade journal KulturBetrieb. That was a great honor for us and confirmed that the work we do in our association is visible and honored.
Editor: Are there any goals that the association has set itself for the next 30 years?
Irene Pamer-Gatzsche: We hope for the same in the next 30 years! We are expanding our network more and more. For example, we are a member of the Emergency Alliance Culture of the Cultural Foundation of the Federal States and, more recently, of the Association of Restorers. We are now in the process of further strengthening our network beyond the federal borders. We are in active exchange with our Swiss partner society, and we are striving to do the same for Austria and other countries. Networks have existed there for many years as well. We can learn from each other and identify our strengths and weaknesses in cultural property protection even better.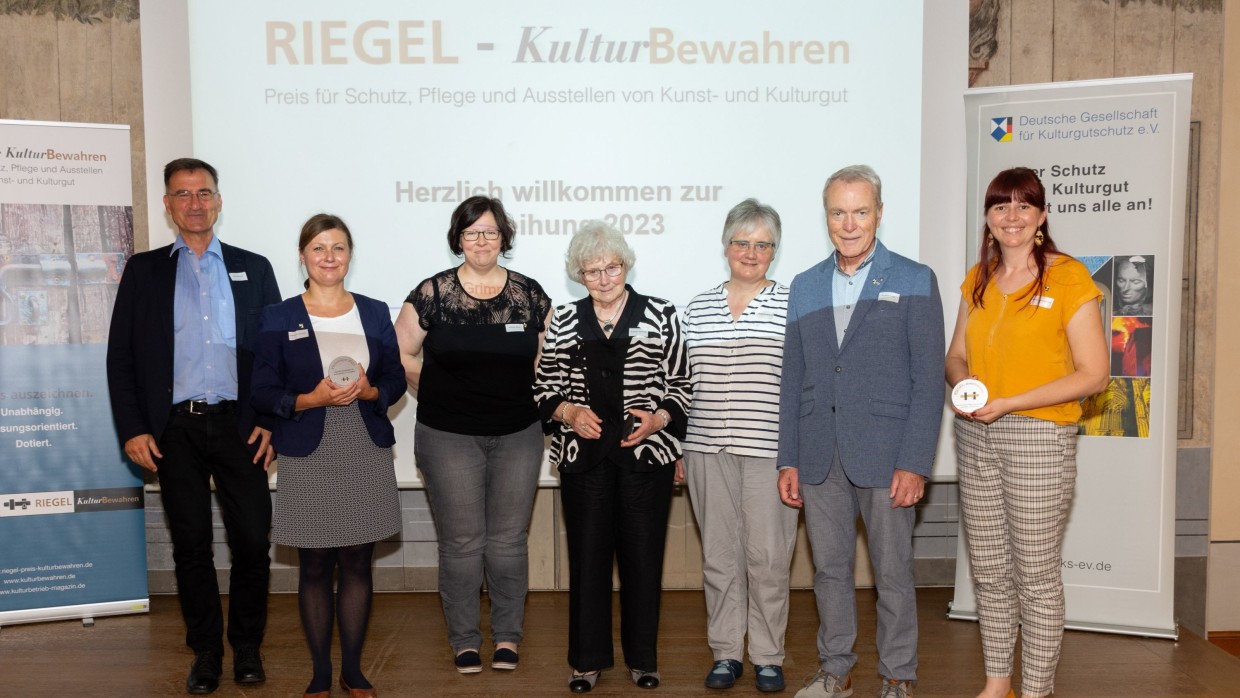 Back to all news