Maintaining Cultural Heritage: The European Route of Brick Gothic
Every day, the European Route of Brick Gothic association advocates for the preservation of brick Gothic cultural heritage and conveys its message to a broad audience. An exhibitor at many previous editions of denkmal, the association even won the denkmal gold medal in 2010 for raising awareness of the historical/cultural spaces being opened up for tourism with an emphasis on historical preservation. In an interview, the association's director Dr Edith Kowalski, reveals what the European Route of Brick Gothic is all about.
Ed.: When and why was the association founded?
Dr Edith Kowalski: It was established in Greifswald, Germany, on 26 September 2007 by cities and sponsors that had earlier participated in an EU-financed project of the same name ("European Route of Brick Gothic"). This project, in turn, was based on the "Routes to Brick Gothic" initiative of the Deutsche Stiftung Denkmalschutz ("German Foundation for Monument Protection"), which aimed to anchor this unique cultural landscape more firmly in people's minds. To this day, the association has continued this initiative across international boundaries. Its key aim is to preserve our brick Gothic cultural heritage and convey that heritage to the broader public.
Ed.: How many members are active in the association?
Dr Edith Kowalski: It currently has around 60 members – cities, regions, communities and institutions from Denmark, Germany and Poland as well as numerous sponsors and cooperation partners. Overall, we're talking about hundreds of brick Gothic structures along the Baltic Sea, inland away from the coast, in cities and in the country. Our contacts in the fields of historical preservation and science, tourism, marketing, administration and politics are aware of the value, significance and potential for cultural tourism that brick Gothic buildings represent. These parties bundle their resources to create public awareness of our cultural heritage.
Ed.: Why is it so important for volunteers to serve in work groups?
Dr Edith Kowalski: Our two work groups on bricks/science and on marketing/tourism give members an opportunity to play an active role in shaping our association's work and to keep themselves up-to-date. In that way, our work groups serve as a platform where members can share information, not only amongst themselves but also between the disciplines of historical preservation and tourism. They support the work done at our central office, make recommendations that can guide association activities and provide technical advice on specialised questions related to marketing, cultural tourism and public relations as well as historical preservation and research. Those efforts are meaningful insofar as our members include many specialists whose expertise and professional experience are highly valuable for our association and for fostering dialogue with each other.
Ed.: Is the association especially proud of any of the goals it has achieved?
Dr Edith Kowalski: The association is celebrating its 15th anniversary this year. Over the years, we've managed to get a lot of people excited about brick Gothic architecture. That's important because, if you understand the value of that cultural landscape, you're more likely to advocate for its preservation. As a growing international network with recognition and support from many institutions, our association is known throughout the entire Baltic Sea region. We're very pleased that we have two active work groups supporting our efforts, that we can now offer our services in three languages and that the Day of Brick Gothic is celebrated throughout Europe each year on the third Saturday in June. We're also particularly proud that our association was awarded the denkmal gold medal in 2010.
Ed.: What projects are currently on your agenda or will be in the near future?
Dr Edith Kowalski: Educational work and providing information for young people is one of our next goals. On October 1 of this year, we launched our very first children's outreach programme in Chorin with a theatre play entitled "GotiKlein". The event provided a playful platform for children to learn about brick Gothic architecture for the first time.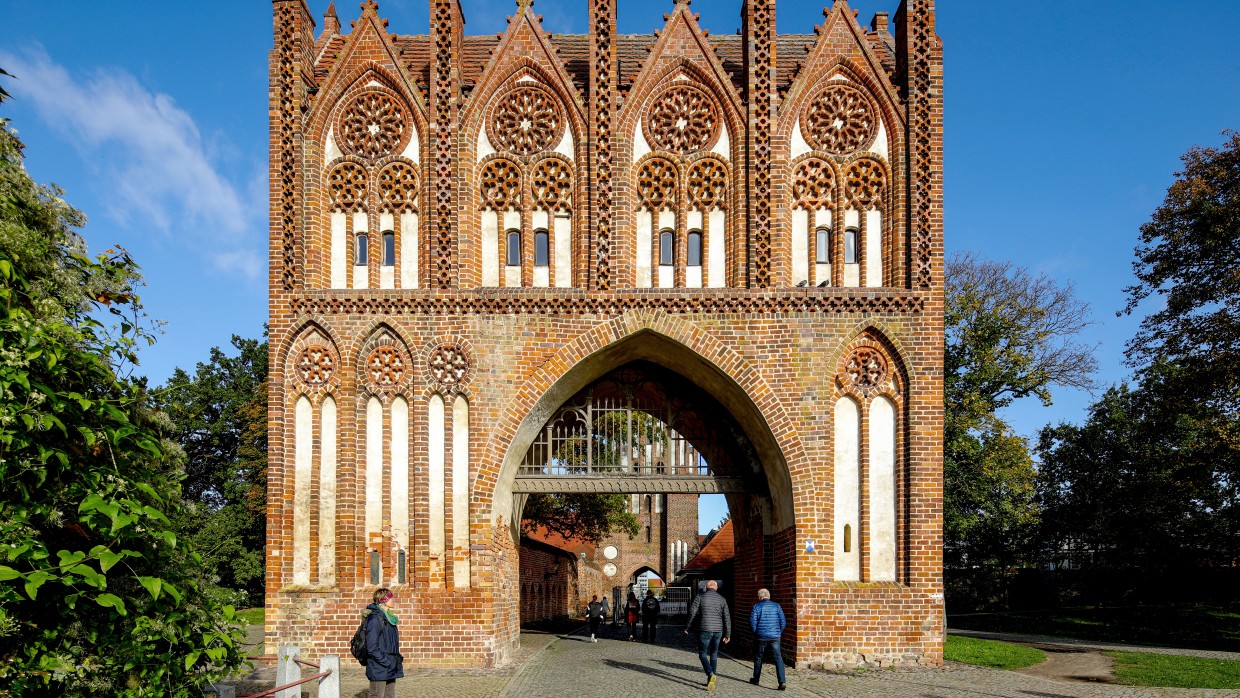 Back to all news