"The New Start for denkmal Has Been Splendidly Successful!" – Comments on denkmal 2022
Denkmal 2022 was a huge success for its exhibitors and visitors (and for us too, of course). We asked some companies, institutions and partners to give us more detailed feedback. We wanted to know what they liked best about denkmal and to summarise the experience of taking part this time. The response was overwhelming and we are very pleased with the amazing feedback!
Extremely Successful Trade Fair Participation
"We are thrilled that our trade fair participation was so successful. As the new Umbrella Association of Restorers in the Skilled Trades (Dachverband der Restauratoren im Handwerk), we aim to increase awareness of the significance of this profession and all its related trades. We were very successful in doing so at denkmal. Visitor response to our large and varied exhibition stand as well as to our joint activities with the Association of Restorers was excellent. We're looking forward to the next edition".
Heike Notz, Chairwoman of the Board, Umbrella Association of Restorers in the Skilled Trades (Dachverband der Restauratoren im Handwerk)
Full Exhibition Stand and Fully Booked Seminar
"Owing to the generally tricky situation for trade fairs over the last two years, we had pretty low expectations of this year's denkmal. But we were very pleasantly surprised! In fact, our exhibition stand turned out to be too small for the many visitors interested in our products, and our seminar on interior insulation in protected monuments was also fully booked. We are totally satisfied and thrilled that the new start for denkmal went so well."
Jens Hanschmann, Multipor Area Manager, Xella Germany GmbH
Wonderful Rebirth of denkmal
"denkmal represents the core of this profession and its tradespeople. The many different trades operating in the businesses of monument conservation and restoration are indeed a very relevant and significant economic factor. That's why I am so glad that tradespeople came in such large numbers and showed their commitment here at denkmal. This trade fair experienced a wonderful revival this year and I'm happy our services to promote youth development and vocational policy were so well received."
Dr Titus Kockel, Head of Division, Trade Promotion Department, German Confederation of Skilled Crafts (ZDH)
Huge Crowds and Incredible Audience
"The new start for denkmal has been splendidly successful! I was amazed by the large crowds at denkmal 2022 and the incredible numbers of people who came to the award ceremony for our Hieronymus Lotter Prize. At the event to present the Leipzig Chamber of Crafts conservation prize, Saxony's Minister of State for Regional Development Thomas Schmidt gave a brilliant speech. I'm confident this will give a huge boost to monument conservation in Saxony."
Dr Wolfgang Hocquél, Board of Directors, City Heritage Foundation (Kulturstiftung Leipzig)
Many Years of Networking and Sharing Knowledge
Since the fair first began, I've presented my company at the collective stand for businesses from the State of Hesse. It's become a tradition that I'm happy to continue. I'm always very satisfied with the fair here in Leipzig. The effective networking at denkmal offers me an excellent way to share knowledge. I've benefited from this for many years. What's more, denkmal is a great opportunity to make further progress in my search for a successor for both my companies. This year, it was especially nice to see how happy everyone was to finally see each other again. It was a unique atmosphere. I would like to continue coming and carry on supporting this event.
Johannes Mosler, Owner of Mosler Restaurations at the Hesse Collective Stand
Skilled Trades Enjoying Great Momentum
An excellent event as always. We met our members here and maintained our network. Our get-together for skilled tradespeople and the visit from the Minister-President of the Free State of Saxony, who came to congratulate us on our 30th anniversary, were complete successes too. We spent three splendid days at denkmal and can say the same for our members. The tradespeople's exhibition stands were always full of visitors and they were able to take plenty of orders on the spot. It was great! Our trades are moving forward and this is the best place to do that.
Stephan Jörchel, Managing Director, Confederation of Clay Builders (Dachverband Lehm e.V.)
Only Significant Trade Fair in Germany
denkmal has been our company showcase for years in the field of restoration. Or to put it another way, for us as a company in the Netherlands, this is the only important trade fair in Germany. At home, we don't have anything comparable at all. In Leipzig, we always get to meet colleagues who have similar specialisations to us. We can rely on high demand for our services and enjoy in-depth conversations with the trade visitors. It's fun. This year, the trade fair has been very good again. We were able to welcome numerous potential new clients to our exhibition stand who came with specific questions about their projects. So we're expecting to do good business in the follow-up to the fair. There's lots to do. We'll definitely be back in two years' time.
Rikus Oswald, Managing Director at Harlinger Aardewerk & Tegelfabriek, Netherlands
Acclaim for Our New Project and Trade Visitors Hungry for Information
We didn't dare to hope that our new project would be so highly appreciated that we would be awarded a gold medal for excellence in European monument conservation here at denkmal. A lovely surprise, which also goes to show that we made the right decision with our solution for rescuing historical heritage in these times of crisis. The mood here at the trade fair is very positive. The trade visitors are hungry for information and we see denkmal as an important platform for us to present our current topics. Among other things, we were able to push the subject of acquiring new talent in the industry. That worked very well.
Sven Taubert, President of the Association of Restorers (Verband der Restauratoren)
Italian Exhibitors Receive Specific Project Requests
Participants exhibiting at the Italian collective stand are very satisfied with the management of the trade fair. The goal was to give Italian companies the opportunity to work together with other international firms. This was altogether successful and resulted in numerous attractive prospects and good meetings. Exhibitors at the collective stand are all satisfied with the fair and happy with the countless enquiries about new projects. It would definitely be an option to take part in denkmal again.
Stefanie Donnet, Manager at Lazio Innova S.p.A., Rome, Italy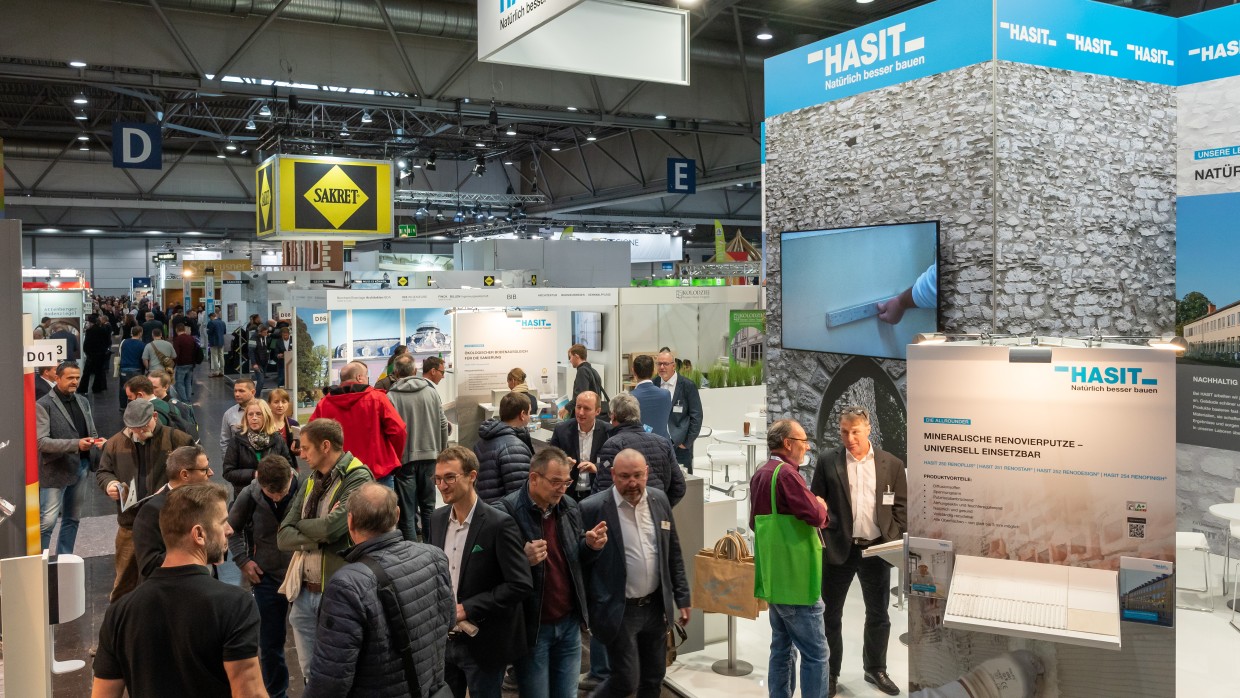 Back to all news