The denkmal Gold Medal Award Ceremony: The Winners
The 13th award ceremony for the denkmal gold medals took place at denkmal 2022. Ten exhibitors at this year's trade fair were awarded the coveted and prestigious seal of quality, which honours excellent achievements in European monument conservation. Winners were chosen by a panel of independent and international experts from the monument conservation industry.
"We are always at denkmal. But it was a phenomenal event this year. Coming to Leipzig this time was particularly special because we also won the gold medal for excellence in European monument conservation", VIA Managing Director Almut Lager is pleased to report. The company won its gold medal for carrying out work that many larger manufacturers of ceramics are no longer able to do. VIA designs and copies historical cement mosaic tiles as well as terrazzo tiles and produces them in all kinds of colours and structures.
Style Dach was also very pleased with denkmal 2022. In 2018, the company took part as one of the exhibitors on the collective stand. This year, the company presented its products and services at its own stand for the first time and was extremely busy from start to finish. With the support of staff from Style Dach, anyone who wished could experiment with slate as a building material. "Visitors were incredibly keen to take part in our activities. I never thought it would be so busy. To top it all, we won a gold medal. All I can say is that we had so much fun!", says a happy Mirko Fischer, Managing Director of Style Dach.
The following exhibitors were awarded a gold medal for their achievements:
DRH (Umbrella Association of Restorers in the Skilled Trades) for its presentation of the wide range of trades in the industry and for its organisational coordination to ensure the high quality of the event.
The Evangelical Church of Central Germany (Evangelische Kirche in Mitteldeutschland) together with the Evangelical-Lutheran State Church of Saxony (Ev.-Luth. Landeskirche Sachsen) for their impressive presentation of the world of organs as cultural heritage of international significance and for bringing the topic to the attention of visitors.
HOWE HOME Artisan Crafts, Posaments and Textiles, owned by Simone Howe in Taucha, Saxony for exceptional entrepreneurial commitment to preserving and implementing a rare craft
German Foundation for Monument Protection Youth Lodges (Jugendbauhütten der Deutschen Stiftung Denkmalschutz) for its inspiring and sustainable work in training young people in traditional trades
Regione Lazio collective stand with trade exhibitors from the Latium region of Italy for international commitment and an innovative portfolio of sustainable and restoration products and services as well as achievements in skilled tradesmanship and scientific research
Roberto Weigel, Saxon lock- and blacksmith, security technology and restoration from Radebeul in Saxony for ongoing work in combining historical locking elements and fittings with modern technology
Style Dach – We Love Our Craft, Mirko Fischer from Colditz in Saxony for lively and openly interactive communication on the trade of slate roofing at the trade fair
The University of Stuttgart and research partners, Stuttgart (Baden-Wuerttemberg) for an exceptional innovation that unites energy research and monument preservation
VDR (Association of Restorers) and Cologne Emergency Association for Archives and Libraries for an innovative joint project on protecting cultural property quickly and easily in an emergency
VIA GmbH, Bacharach (Rhineland-Palatinate) for the production of unique ceramic and terrazzo tiles and for preserving the traditional craft of terrazzo at the highest level
Congratulations to you all!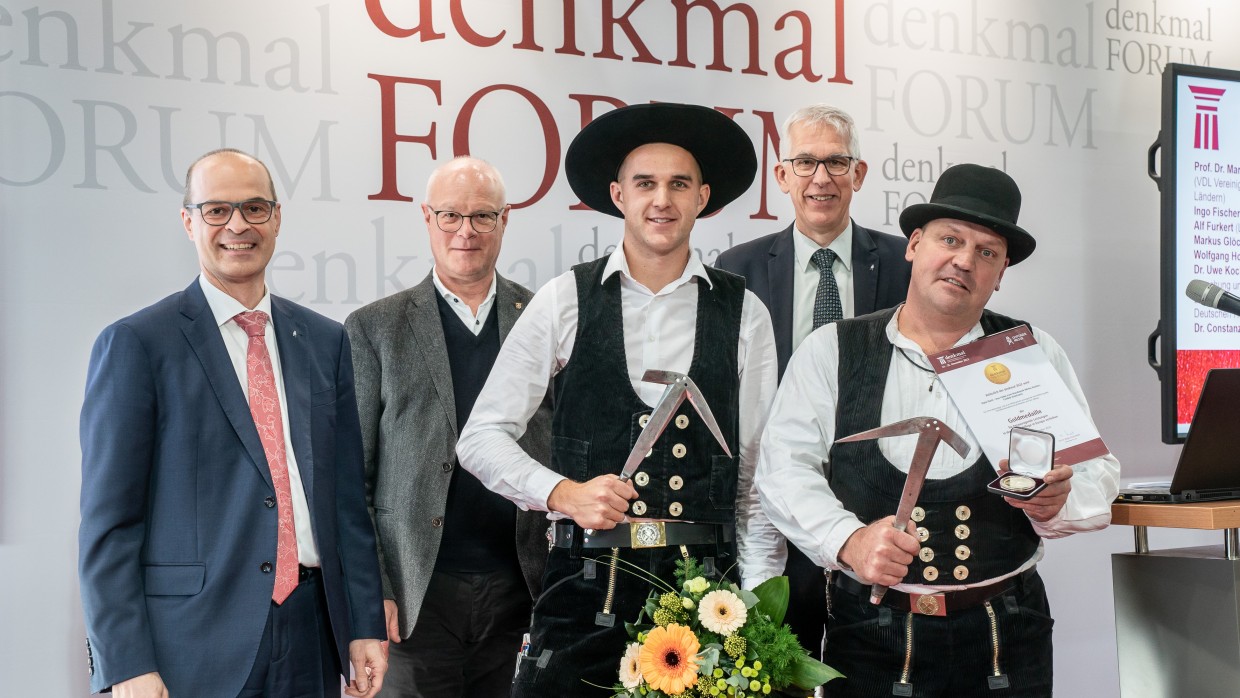 Back to all news